Baker's cyst
Swelling in the popliteal area is often symptomatic of a Baker's cyst.
This type of cyst mostly occurs as a result of chronic meniscus or cartilage damage, but can also occur along with chronic rheumatic knee illness. Constant friction in the knee joint stimulates an increased production of synovial fluid, and a cystic protrusion develops at the back of the knee.
In addition to pain and tension, sudden bruising and inflammation can occur throughout the entire knee if the Baker's cyst ruptures.
Most cases of Baker's cyst regress on their own once the underlying problem is successfully treated (e.g. with meniscal surgery). A Baker's cyst usually does not need to be surgically removed.
More questions?
Our experts are happy to help you
Just give us a call!
SYMPTOMS
The symptoms are usually dependent on the strain on the knee joint and often decrease again or disappear completely with immobilisation.
The most common are:
Pain or feelings of tension in the popliteal region or in the upper calf musculature
Recurring swelling that is tender on palpation in the popliteal region
Restriction of movement in the case of very large cysts.
If the Baker's cyst bursts, sudden-onset severe pain can occur in the knee joint or in the whole lower leg and areas of inflammation can also occur.

DIAGNOSIS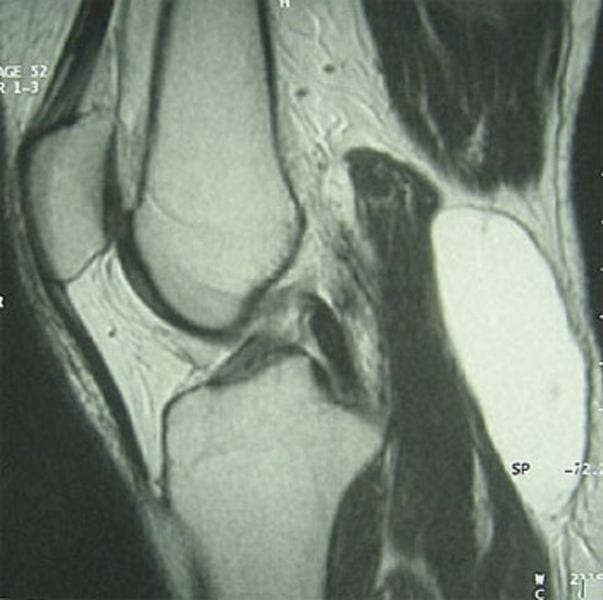 Precise documenting of the course of the disease and manual examination of the knee joint are important for diagnosis.
Univ.Prof. Dr. Christian Gäbler empfiehlt allen Patienten eine MRI-Untersuchung: erstens kann damit die exakte Größe und die genaue Ausdehnung der Bakerzyste dargestellt werden, zweitens wird die auslösende Grunderkrankung (wie z.B. ein bestehender Meniskusschaden) sicher abgeklärt.



TREATMENT
The treatment is aimed at the underlying disease on the one hand (cartilage damage, meniscus lesion or chronic inflammation), and at the cyst itself on the other hand. Analgesic and anti-inflammatory medications are available as conservative treatment.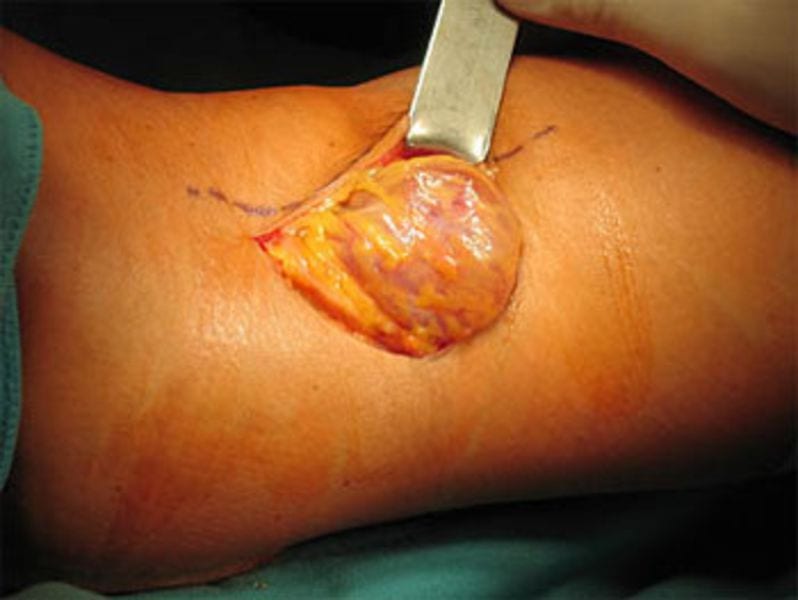 In most cases, the Baker's cyst regresses itself following successful treatment of the underlying disease (e.g. meniscus operation) and does not require surgical removal.

If the Baker's cyst is so large that it causes the patient persisting symptoms and e.g. there is also a restriction in movement, it must be removed surgically. This is rarely carried out by means of arthroscopy and more commonly in the form of an open procedure. During this operation, the cyst is freed from the joint capsule, removed completely and the joint capsule is fenestrated.
More questions?
Our experts are happy to help you
Just give us a call!
Bitte beachten Sie, dass sich medizinische Indikationen und Therapien ständig ändern. Teilweise erfolgen diese Veränderungen rascher, als Univ.Prof. Dr. Christian Gäbler zeitlich imstande ist, die Homepage zu aktualisieren. Manche Informationen zu Dosierung, Verabreichung und Zusammensetzungen von Medikamenten können sich inzwischen geändert haben. Das Lesen einer Internetseite kann den Besuch beim Arzt nicht ersetzen - es kann sein, dass Ihnen bei einer Untersuchung und anschliessenden Besprechung durch Ihren Arzt auch andere Informationen durch neue wissenschaftliche Erkenntnisse mitgeteilt werden.