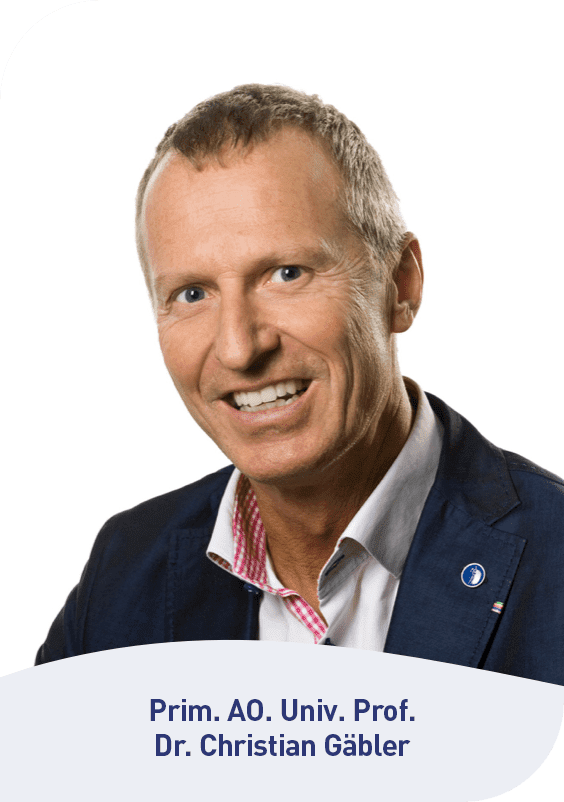 Excellence in medicine meets empathy
As a surgeon specializing in sports medicine and knee and shoulder injuries, I have over 28 years of professional experience at the University of Vienna Medical School, Department of Traumatology, as Head Physician of the EURO 2008 and American Football World Cup 2014, Medical Director of the Vienna City Marathon and Team Doctor for the Austrian National American Football Team. Each year, I personally treat around 4,000 patients with knee issues, shoulder problems, and sports injuries. The most difficult cases from all over Europe are referred to me and to my highly specialized team at the Sportambulatorium Wien – Center for Orthopedics and Sports Traumatology. Zentrum für Sport- und Gelenkchirurgie Complementing my years of experience and expertise gained from more than 20,000 successful surgeries, I implement state-of-the-art research and innovative therapeutic methods to achieve successful outcomes for each individual patient. Our team of experts treats all types of joint problems and sports injures, ranging from ligament ruptures to fractures to various stress-related and degenerative joint complaints – with an experienced specialist available for each area of the body. Highly advanced minimally invasive treatment methods (particularly in the field of arthroscopy) and innovative surgical procedures (such as the keyhole technique) make it possible to treat even long-standing medical conditions. In many cases, modern treatment methods make this possible without surgery.
---
Univ. Prof. Dr. Christian Gäbler - ausgestrahlt in "Die Meinungsmacher" auf ORF III
Years of experience and the application of state-of-the-art research and therapeutic methods create a solid foundation for the successful treatment of each individual patient.
---
Worldwide invitations as a lecturer and as a surgeon

numerous scientific awards

Specialist for sports injuries for the Austrian Ministry of Health
of patients rate the service they received as "very good"
of patients are "very satisf
i
ed" with their surgical outcomes
Your time is valuable – and our primary focus is each patient's well-being.
We are happy to help coordinate diagnostic imaging and other examinations.
In the event that an operation will achieve the best outcome, our dedicated office team will provide support every step of the way.
COVID-19 Clinic Guidelines
To ensure that you as a patient can feel safe with us, we follow all current COVID guidelines and work according to the strictest hygiene regulations.
We are happy to assist you in completing any health insurance or accident insurance documentation.
Learn more about our patient services and pricing.

Manfred Karner
Ich kann das Sportambulatorium nur wärmstens empfehlen, da man rund um das Team von Dr. Christian Gäbler alles in einem Haus hat. Von der tollen Expertise von Dr. Gäbler beginnend und den weiteren Spezialisten in ihren Fachgebieten, bis hin zur Nachbetreuung durch das Physiotherapie Team, die auch wiederum ihre Spezialgebiete inne haben. Also besser kann man nicht aufgehoben sein als in diesem Institut.
Manfred Karner
Dec 1, 2020

Sabine Baumgartner
Meine Fam. und ich sind schon lange Patienten von Dr. Gäbler. Abgesehen von seiner hervorragenden fachlichen Kompetenz uns sehr guten Beratung im medizinischen Bereich ist er über die Jahre "einfach" Mensch geblieben. Man fühlt sich einfach gut aufgehoben. Die Ordination ist sehr gut organisiert und alle Mitarbeiter sind immer freundlich und zuvorkommend. Top Arzt und Top Team.
Sabine Baumgartner
Mar 9, 2021

der SENSEI
Selbst Profisportler, meine Einkunft hängt von meinem funktionierenden Körper ab, war mit wichtig jemanden zu finden, der sich dessen Umstand vollends bewusst ist. Selbst Lehrer und wissend, dass nur Übung einen Meister hervorbringt, war klar, jemand der so viele KnieOPs hinter sich hatte muss eine Ahnung davon haben. Spitzensportler und Berufssportler sind ein eigenes Völkchen, eine eigene Sprache und ein eigenes Körperverständnis. Vielleicht manchmal ein bisschen Diva, aber wir stecken ja unsere gesamte Arbeit in unsere Skills. Die Beratung hat vollends darauf Rücksicht genommen, keine Fragen blieben offen. Auch wenn Sie vielleicht manchmal, sagen wir "speziell" waren. Im Gegensatz zu so manch anderer Erfahrung hatte ich immer den Eindruck des Interesses an meinem Problem. Auch, dass ein zweiter Arzt anwesend war, um sich meiner anzunehmen. Das Team ist an sich sehr höflich, unterstützend und professionell. So schnell gabs weder einen...
der SENSEI
Mar 15, 2021

Marianne Sturm
Ich war das erste Mal da und war sehr zufrieden. es gibt eine sehr persönliche, gut verständliche Aufklärung über das Problem, in meinem Fall betreffend Knie. Und auch die Verkehrsanbindung ist aus meiner Sicht optimal. Mit eine Wort : sehr zu empfehlen
Marianne Sturm
Mar 10, 2021

Ewald Rupp
Prof. Dr. Christian Gäbler ist ein Meister seines Faches. Aufgrund eines gerissenen Brustmuskels bin ich zu ihm gekommen. Obwohl wir vor der Operation aufgrund des Corona-Virus keinen Kontakt hatten, habe ich mich beim Erstkontakt, welcher auf das Briefing der Operation war, in sicheren und kompetenten Händen gefühlt. Nicht nur seine ärztliche Leistung bei der Verletzung, sondern auch sein Umgang mit Menschen ist absolut Weltklasse! Ich danke Ihnen für den reibungslosen Ablauf, die geglückte Operation und den herzlichen Umfang! Sie machen die Welt zu einem besseren und stärkeren Ort! DANKE!
Ewald Rupp
Feb 3, 2021

Carole "Carole" 10
Einfach Top: ich habe sofort einen Termin bekommen und Dr. Gäbler gehört zu den (wenigen) Ärzten, die sich nicht nur auf Bilder, sondern auf klinische Untersuchungen und die Angaben des Patienten verlassen und er stellte sofort eine klare (und korrekte) Diagnose. Nachdem ich monatelang von einem zum anderen Arzt gewandert bin und mir niemand helfen konnte, bekam ich hier binnen 5 Tagen einen OP Termin. Die OP, Nachversorgung, Betreuung, weiterführende Therapien und Informationen, alles ist einfach mit höchste Kompetenz, Menschlichkeit und Effizienz verlaufen und ich danke Der. Gäbler für wiedergewonnene Lebensqualität.
Carole "Carole" 10
Dec 20, 2021

Sehr gute Behandlung incl. Op, äußerst schnelle Rehabilitation dank effizienter Therapie
Nach Skiunfall wurde mein Bein vorort operiert. (Markknochenosteosynthese im Schienbein)Das gebrochene Kahnbein wäre für min 10 Wochen in Gips. Prof. Gäbler schlug mir OP vor. Nach 3 Wochen war ich fast genesen. Nachbehandlung und Physiotherapie waren sehr erfolgreich. Das Sekretariat organisierte perfekt alle Kontrollen inklusive Röntgentermine . Sehr freundliche Mitarbeiterinnen! Weitere Betreuung von OA Dr. Zich äußerst kompetent, auch in historischen Fortschritten der Medizin hat er immer ein "Gschichterl" parat, freundlich und gut gelaunt. Habe mich sehr gut betreut gefühlt und der Erfolg meiner Genesung gibt ihnen recht. Bravo und vielen Dank
Google User
Aug 1, 2022

DER Arzt meines Vertrauens!
Exzellente fachliche Expertise, modernste Untersuchung- und Behandlungsmethoden und emphatischer Umgang mit mir als Patient. Dr. Gäbler und sein Team der Sportambulanz haben mir als Berufssportler schon oft geholfen. Ich kann diese Ordination speziell Personen empfehlen, die Hobby- oder Leistungssport betreiben und nach Verletzungen auf möglichst vollständige Wiederherstellung ihrer körperlichen Leistungsfähigkeit Wert legen. Alle Schritte von der Diagnose über die medizinische Intervention bis hin zur Rehabilitation sind hier aufeinander abgestimmt. Nahezu unfassbar freundlich und hilfsbereit ist das Sekretariat der Sportambulanz. Behandlungstermine, Überweisungen, Abrechnungen, Kontakt, bis hin zur Gegenverrechnung mit Versicherungen … alles wird kompetent und freundlich erledigt. Ich kann diese Ordination vorbehaltlos empfehlen!
Google User
Aug 1, 2022
Explanations You Can Understand
Our videos explain specialized terminology and treatment processes in straightforward, easy-to-understand language. Visit our YouTube channel for more information on the topic of mobility. Please note that all videos are currently only available in German.
Information and services about our shared platform
Performance Diagnostics
& Sports Science
Sports Physiotherapy &
Rehabilitation
SPORTAMBULATORIUM WIEN
CENTER FOR ORTHOPEDICS AND
SPORT TRAUMATOLOGY (ZOS)
Alser Straße 28, A-1090 Vienna

Office
+43 1 402 1000

Emergency Contact
+43 676 4455488

E-Mail
office (at) sportambulatorium.wien

Office hours
Monday to Thursday: 8 am-6 pm
Friday: 8 am-5 pm and 5 pm-6pm by appointment
Saturday: 8 am-12 pm by appointment

We are unable to accept state health insurance plans. Our offices are handicapped accessible, with some restrictions.