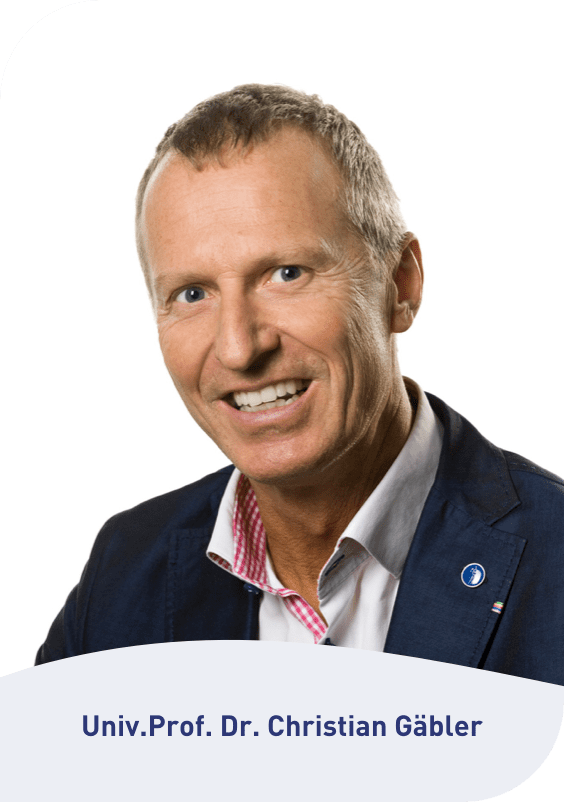 As a surgeon specializing in sports medicine and knee and shoulder injuries, I have over 28 years of professional experience at the Vienna University Trauma Surgery Clinic, as Head Physician of the EURO 2008 and American Football World Cup 2014, Medical Director of the Vienna City Marathon and Team Doctor for the Austrian national American football team. Each year, I personally treat around 4,000 patients with knee issues, shoulder problems and sports injuries. The most difficult cases throughout Europe are transferred into my own personal care and that of my highly specialized team at the Sportambulatorium Wien – Center for Orthopedics and Sports Traumatology as well as the Sports and Joint Surgery Center Complementing my years of experience and the expertise I developed during more than 20,000 successful surgeries, I incorporate state-of-the-art research and therapeutic methods to achieve successful outcomes for each individual patient. Our team of experts treats all types of athletic injuries and joint problems, ranging from fractures to various stress-related and degenerative joint complaints – with an experienced specialist available for each region of the body. Whether the issue is with your knee, shoulder, hip, foot, or wrist, the latest minimally invasive treatment methods (particularly in the field of arthroscopy) and innovative surgical procedures (such as the keyhole technique) can often completely eliminate even long-standing medical conditions. In many cases, modern treatment methods make this possible without surgery. Our cohesive team at the Sportambulatorium Wien – Center for Orthopedics and Sports Traumatology works together seamlessly, offering a comprehensive range of fields and specializations to ensure you receive the best possible care.
---
Years of experience and the application of state-of-the-art research and therapeutic methods create a solid foundation for the successful treatment of each individual patient.
---
Worldwide invitations as a lecturer and as a surgeon

numerous scientific awards

Specialist for sports injuries for the Austrian Ministry of Health
of patients rate the service they received as "very good"
of patients are "very satisf
i
ed" with their surgical outcomes
Your time is valuable – and our primary focus is each patient's well-being.
We are happy to help coordinate diagnostic imaging and other examinations.
In the event that an operation will achieve the best outcome, our dedicated office team will provide support every step of the way.
We are happy to assist you in completing any health insurance or accident insurance documentation.
Learn more about our patient services and pricing.
Explanations You Can Understand
Our videos explain specialized terminology and treatment processes in straightforward, easy-to-understand language. Visit our YouTube channel for more information on the topic of mobility. Please note that all videos are currently only available in German.
Information and services about our shared platform
Performance Diagnostics
& Sports Science
Sports Physiotherapy &
Rehabilitation
SPORTAMBULATORIUM WIEN
CENTER FOR ORTHOPEDICS AND
SPORT TRAUMATOLOGY (ZOS)
Alser Straße 28, A-1090 Vienna

Office
+43 1 402 1000

Emergency Contact
+43 676 4455488

E-Mail
office (at) sportambulatorium.wien

Office hours
Monday to Thursday: 8 am-6 pm
Friday: 8 am-5 pm and 5 pm-6pm by appointment
Saturday: 8 am-12 pm by appointment

We are unable to accept state health insurance plans. Our offices are handicapped accessible, with some restrictions.