Kneecap
The kneecap, also called the patella, is a flat, disc-shaped bone sheathed with articular cartilage on the back to create a sliding surface.
When this cartilage surface wears out, damage can occur that can lead to early onset osteoarthritis in the long term.
The most common cause of retropatellar cartilage damage is when the kneecap is improperly guided across its shallow groove (also called patellar instability or patellar subluxation), due, for example, to a muscular deficit or an injury such as patellar dislocation. This causes the kneecap to increase pressure on the trochlea, damaging the cartilage layer.
Depending on the cause and type of patellar dislocation, treatment can be either surgical or conservative.
More questions?
Our experts are happy to help you
Just give us a call!
LATERALISATION OF THE PATELLA/PATELLAR SUBLUXATION:
A deviation of the patella from the articular surface may occur congenitally, through a lack of muscular direction or even as a result of previous patellar injuries. This is called lateralisation of the patella or patellar subluxation. The deviation from the articular surface leads to increased contact pressure of the patella on the articular surface, which can result in damage to the joint cartilage and lead to arthrosis. Often it is not only pain that occurs but also pronounced joint noise behind the kneecap.
treatment of choice is a relieving incision, which can also be carried out arthroscopically, to reduce the pull on the patella from outside and to further optimise the pulling direction with concomitant capsulorrhaphy on the medial side. The pressure will therefore be distributed evenly behind the kneecap again and the damaged cartilage has the potential to heal. Otherwise, appropriate additional treatment measures (see cartilage) are required. Concomitant physiotherapy can and should be commenced shortly after the operation.
KNEECAP DISLOCATION (PATELLAR-DISLOCATION):
Dislocation of the patella (kneecap dislocation) from the femoral groove can occur at any age. However it is often a common problem for young girls and women and more rarely occurs in young boys and men. Depending on the anatomical basis, the patellar dislocation occurs due to a pre-existing weakness in the muscles and ligaments or due to sufficient application of force. In all cases, the medial groove of the patella ruptures and causes the patella to dislocate, i.e. it springs out laterally. The patella often does not stay fixed laterally but springs back spontaneously. The springing back can cause injuries in the region of the cartilage. In an X-ray, significant tilting and lateral displacement of the patella is seen in the images of the kneecap and smaller cracked splinters, for example, can be shown. Suitable treatment is decided upon depending on the malposition of the patella following dislocation and the diagnosis of cartilage damage.
In many cases, there is a predisposition for the dislocation of the patella (=habitual dislocation) - this is more common in women than in men. The cause of this is incorrect formation of the patella guide channel (trochlear hypoplasia). The patella therefore has no available guide trough and only an inclined plane. As a result of this predisposition, the patella also does not develop correctly, a so-called Jägerhut patella occurs (see also Wiberg classification of patella shapes).
TREATMENT:
As pronounced knee joint effusion usually occurs, arthroscopy is recommended as the blood and blood by-products can damage the cartilage. In the context of the Arthroscopy wird das Gelenk vom Blut befreit und die Knorpelflächen auf etwaige Schäden untersucht. Falls ein grösserer knöcherner Ausriss besteht, kann dieser arthroskopisch oder offen refixiert werden. Zumeist ist aber die Hauptproblematik der Riss im Bereich des inneren Führungsbandes. Abhängig vom Alter des Patienten oder der Patientin, der Verletzung und der Fehlstellung empfiehlt Univ.Prof. Dr. Christian Gäbler eine der folgenden Behandlungsmodalitäten.
In the case of a very slight malposition, which can be diagnosed by means of X-ray as well as using arthroscopy, consistent physiotherapy is carried out, regardless of age or gender. Physiotherapy serves to improve the centring of the patella, during which the musculature that pulls the kneecap medially is primarily strengthened. A final clinical follow-up check and corresponding X-ray imaging are carried out after three months. It can then be decided whether the treatment can be concluded.
If there is an older injury, the patient is elderly, or if the malposition has already balanced itself out well with a flexed position of 20°, arthroscopic relief of weight-bearing on the lateral fixation apparatus (lateral release) is completely adequate. It must be confirmed, however, using MRI, that the medial patellofemoral ligament (MPFL) is intact! Optimised guiding of the patella can then be achieved during physiotherapeutic follow-up care (the same as stated above). A final clinical follow-up check and corresponding X-ray imaging are also carried out here after three months.
If this concerns a fresh dislocation, steht die Kniescheibe deutlich schräg und besteht auf der Innenseite eine ausgedehnte Rissbildung, wird die arthroskopische oder offene Naht und Raffung des inneren Bandes empfohlen. Die Indikation für ein laterales release sollte nur in Ausnahmefällen gestellt werden, da sich gezeigt hat, dass die laterale release Operation auch zu unangenehmer Instabilität der Kniescheibe führen kann. Nach der Operation wird das Knie mit einer Schiene für vier Wochen ruhiggestellt. Die Patienten dürfen die ersten 14 Tage nicht belasten und müssen mit Stützkrücken mobilisiert werden. Die weitere Belastung erfolgt nach Massgabe der Schmerzen. Schon zwei Wochen nach der Operation kann mit physiotherapeutischen Übungen begonnen werden. Nach sechs Wochen sollte ein begleitendes Krafttraining erfolgen. Eine klinische Kontrolle und Röntgenkontrolle ist auch hier nach drei Monaten obligatorisch.
If patellar dislocation has already occurred several times (recurrent patellar dislocation), precise clinical investigation must be carried out: if there is hypoplasia of the articular surface, the patella is stable in a flexed position of 90°, something has to be carried out on the articular surface; is the medial femoropatellar ligament (MPFL) that stabilises the patella in a medial direction intact? What does the cartilage look like behind the patella?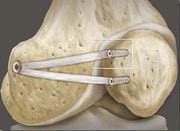 After the operation, the knee is immobilised in a splint for six weeks. In the first two weeks, no weight bearing is permitted and the knee joint should not be flexed by more than 30°. The patient can then bear weight with half of their body weight after two weeks and the leg can be flexed by up to 90° (for another four weeks). The splint can be removed after six weeks if progress is normal. Physiotherapy is commenced immediately.


PATELLAR DISLOCATION IN CHILDREN AND ADOLESCENTS:
Frequently occurring patellar dislocation can lead to severe destruction of the cartilage behind the kneecap, even in childhood or adolescence, with free pieces of cartilage in the joint and the risk of early-onset arthrosis. Following investigation of the leg axis and the articular surfaces, you should NOT wait until growing has concluded, but rather carry out MPFL reconstruction as quickly as possible - the anterior cruciate ligament should also be replaced in children and adolescents in this way in the case of an unstable cruciate ligament situation, in order to prevent premature destruction of the joint.
References: click here
More questions?
Our experts are happy to help you
Just give us a call!
Bitte beachten Sie, dass sich medizinische Indikationen und Therapien ständig ändern. Teilweise erfolgen diese Veränderungen rascher, als Univ.Prof. Dr. Christian Gäbler zeitlich imstande ist, die Homepage zu aktualisieren. Manche Informationen zu Dosierung, Verabreichung und Zusammensetzungen von Medikamenten können sich inzwischen geändert haben. Das Lesen einer Internetseite kann den Besuch beim Arzt nicht ersetzen - es kann sein, dass Ihnen bei einer Untersuchung und anschliessenden Besprechung durch Ihren Arzt auch andere Informationen durch neue wissenschaftliche Erkenntnisse mitgeteilt werden.