Plica Syndrome
The plica is a small fold in the synovial lining of the knee joint found in approx. 50-70% of adults.
When a plica is highly pronounced, it can cause painful irritation, particularly if the knee joint is overstressed. This is often called plica syndrome.
The swollen tissue rubs against the cartilage and, in the long term, can result in early onset arthritis.
Plica syndrome is mainly treated conservatively, however, if symptoms persist or if the plica is highly pronounced, surgical treatment can be advised.
More questions?
Our experts are happy to help you
Just give us a call!
As with all joints, the knee joint is covered by a thin, smooth layer of skin. This so-called synovial membrane produces articular fluid, which prevents friction in the joint and supplies the joint cartilage with nutrients.
In der Embryonalentwicklung bildet diese Synovialhaut eine Membran, die das Kniegelenk in zwei separate Bereiche unterteilt (dies kommt noch aus der Zeit als der Mensch das Meer verlassen und sich auf allen vieren bewegt hat. Pferde z.B. haben immer noch ein zweigeteiltes Kniegelenk). Normalerweise bildet sich diese Membran am Ende der Kindesentwicklung zugunsten einer größeren Bewegungsfreiheit im Kniegelenk vollständig zurück. Bei etwa 50 – 70 % der Erwachsenen bleibt jedoch eine kleine Falte, eine sog. Plica, bestehen. Diese befindet sich meist hinter, oberhalb oder innenseitig (=medial) der Kniescheibe.
Many people who have a plica have no problems at all, however, if the plica is more prominent, this can lead to irritations. Above all, overstraining of the knee joint leads to irritation of the plica and therefore to so-called Plica Syndrome. Demanding activities in which the knee is repeatedly flexed and then extended again (such as running, cycling, or exercises on "steppers") are the most frequent causes.
The plica itself, as well as the tissue around it, swells as a result and becomes painful. This thickening then rubs on the cartilage inside the knee joint and can lead to damage to the joint cartilage or joint inflammation (= arthritis) if exertion is continued.
The most common symptoms of plica syndrome are
Pain on exertion, mostly on the medial or posterior side of the patella
"Crepitations" or "clicking" of the joint in a specific position whilst flexing it
A feeling of "blocking" during the extending movement
Stiffness in the joint after sitting for long periods
In some cases, the thickened plica is also palpable under the skin or there is swelling over the whole knee joint.
DIAGNOSIS
To diagnose plica syndrome, you first need to try to locate the pain exactly or determine whether thickening has occurred in the patellar region. You can often also feel the rubbing of the plica in the knee joint on movement. Pain when tensing the thigh musculature is typical, if the examiner presses the patella against the articular surface at the same time (= positive Zohlen test. This test, however, can also be positive in the case of retropatellar cartilage damage - and 50% of all patients generally find it very uncomfortable to be subjected to this test).
An MRI examination can also be helpful for diagnosis, however it does not always yield clear findings. In some patients, definite proof of plica syndrome is only found during Arthroscopy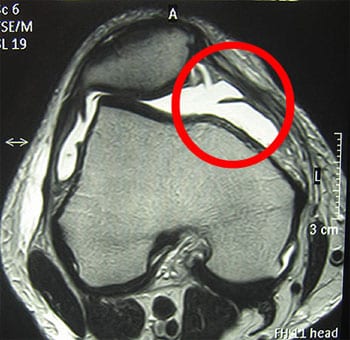 TREATMENT
Non-surgical treatment and treatment of the inflammatory plica irritation can be carried out as an initial attempt. Rest must be prescribed here, in combination with treatment with anti-inflammatory medication. Cooling with ice is also helpful and alleviates pain and swelling.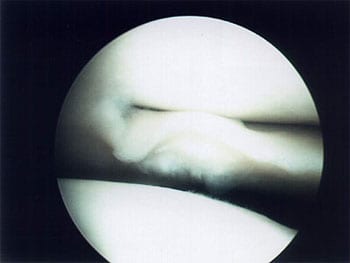 The problem with plica syndrome in athletic patients, however, is that the symptoms often do not improve because the inflammatory changed and hardened edge of the plica continues to rub on the cartilage, and destroys it. An operation (arthroscopy) should therefore be considered early on for athletic patients. The plica is removed and the symptoms usually improve after a very short time - unless significant cartilage damage has already occurred.
It should therefore be explained to the patient before the operation that they may still have pain after the operation (due to cartilage damage). The majority of patients, however, are really fortunate following the minor arthroscopic operation because the pain, which has often accompanied the problem for years, has suddenly completely disappeared.
More questions?
Our experts are happy to help you
Just give us a call!
Bitte beachten Sie, dass sich medizinische Indikationen und Therapien ständig ändern. Teilweise erfolgen diese Veränderungen rascher, als Univ.Prof. Dr. Christian Gäbler zeitlich imstande ist, die Homepage zu aktualisieren. Manche Informationen zu Dosierung, Verabreichung und Zusammensetzungen von Medikamenten können sich inzwischen geändert haben. Das Lesen einer Internetseite kann den Besuch beim Arzt nicht ersetzen - es kann sein, dass Ihnen bei einer Untersuchung und anschliessenden Besprechung durch Ihren Arzt auch andere Informationen durch neue wissenschaftliche Erkenntnisse mitgeteilt werden.