PLATELET-RICH PLASMA INFILTRATION (ACP)
ACP (autologous conditioned plasma) is used to treat acute muscle, tendon, and ligament injuries as well as degenerative joint conditions (cartilage damage, arthritis).
More questions?
Our experts are happy to help you
Just give us a call!
Information on the most important growth factors contained in autologous blood:
Platelet-derived growth factor (PDGF): this substance stimulates the division and "chemotaxis" (attraction) of fibroblasts (key connective tissue cells) and supports the cell division of mesenchymal stem cells and endothelial cells. This helps the extracellular matrix grow and increases the production of hyaluronic acid - which is a help for people with osteoarthritis, as it stops the progression of the disease.
Fibroblast growth factors (FGF-1 and FGF-2): these substances encourage the regrowth of connective tissue, blood vessel growth, construction of collagen fibers, and stimulates the healing processes of injured tissue (muscle, tendons, and skin).
Epidermal growth factor (EGF): this substance regulates cell growth, stimulates the splitting and specialization of epidermal cells, and supports the growth of granulation tissue and blood vessels. This also stimulates the healing processes of injured tissue (muscle, tendons, and skin).
Transforming growth factors a and b (TGF-a and TGF-b): these substances stimulate the cell division of connective tissue and encourage DNA-synthesis as well as the production of collagen, antibacterial peptides, keratinocytes, and the growth of blood vessels.
Vascular endothelial growth factor (VEGF): these substances stimulate the growth of blood vessels and endothelial cells, which in turn supports the healing processes of injured tissue (muscle, tendons, and skin).
New scientific studies show that the use of ACP can significantly accelerate and improve the healing processes for muscle injuries as well as tendon and cartilage problems.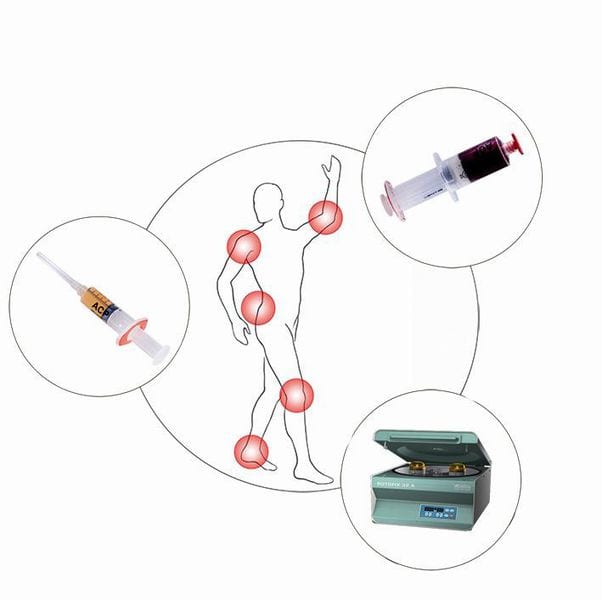 Eine klinische Studie bei Arthrosepatienten hat vor kurzem gezeigt, dass Eigenblut-Infiltrationen in das Kniegelenk zu einer deutlichen Besserung der Beschwerden führen können. Die Ergebnisse dieser Studie zeigten deutlich bessere Resultate des Eigenblut (ACP) in Vergleich zu Hyaluronsäure-Infiltrationen.




Video about platelet-rich plasma therapy (ACP)
Top American Athletes Come to Europe for PRP Therapy
>> Read report
References:
Comparison Between Hyaluronic Acid and Platelet-Rich Plasma, Intra-articular Infiltration in the Treatment of Gonarthrosis
F. Cerza et al.; Am J Sports Med. 2012 Dec;40(12):2822-7.
Methods: A total of 120 patients affected by clinically and radiographically documented gonarthrosis were included in this study. The gonarthrosis was graded using the Kellgren-Lawrence radiographic classification scale. The 120 patients were randomized into 2 study groups in a 1:1 ratio: 60 patients received 4 intra-articular injections of PRP (specifically, autologous conditioned plasma [ACP], 5.5 mL), and 60 patients received 4 intra-articular injections of HA (20 mg/2 mL). An unblinded physician performed infiltration once a week for 4 weeks into the knee affected by clinically relevant gonarthrosis (in both groups). All patients were evaluated with the Western Ontario and McMaster (WOMAC) score before the infiltration and at 4, 12, and 24 weeks after the first injection.
Results: Treatment with a local injection of ACP had a significant effect shortly after the final infiltration and a continuously improving sustained effect up to 24 weeks (WOMAC score, 65.1 and 36.5 in the HA and ACP groups, respectively; P \ .001), where the clinical outcomes were better compared with the results with HA. In the HA group, the worst results were obtained for grade III gonarthrosis, whereas the clinical results obtained in the ACP group did not show any statistically significant differ- ence in terms of the grade of gonarthrosis. The mean WOMAC scores for grade III gonarthrosis were 74.85 in the HA group and 41.20 in the ACP group (P \ .001).
Conclusion: Treatment with ACP showed a significantly better clinical outcome than did treatment with HA, with sustained lower WOMAC scores. Treatment with HA did not seem to be effective in the patients with grade III gonarthrosis.
In general, four ACP infiltrations are carried out in intervals of two weeks (intervals can be longer but should not be any shorter). In some cases, a fifth infiltration is recommended four weeks after the last infiltration (in the case that symptoms have improved significantly but have not entirely disappeared).
Cost per infiltration: € 250.-
More questions?
Our experts are happy to help you
Just give us a call!
Please note that medical indications and therapies are constantly changing and evolving. Sometimes these changes occur more rapidly than Dr. Gäbler is able to update the homepage. Detailed information about the dosage, administration, and composition of medications may have changed since the last update. Reading a website is never a substitute for visiting your doctor. An examination by and discussion with your doctor can provide significant additional information for you based on your personal diagnosis and the latest scientific findings. Please note that surgeries and outpatient procedures are not performed on the premises of the Sportambulatorium Wien.