PLATELET-RICH PLASMA INFILTRATION (ACP)
ACP (autologous conditioned plasma) is used to treat acute muscle, tendon, and ligament injuries as well as degenerative joint conditions (cartilage damage, arthritis).
More questions?
Our experts are happy to help you
Just give us a call!
Information on the most important growth factors contained in autologous blood:
Platelet-derived growth factor (PDGF): this substance stimulates the devision and "chemotaxis" (= attraction) of fibroblasts (important connective tissue cells) and supports the cell devision from mesenchymal stem cells and endothelial cells. This aids the growth of the extracellular matrix and supports the production of hyaluronic acid - which in return helps people with osteoarthritis, as this stops the progression of this problem.
Fibroblast growth factors (FGF-1 and FGF-2): these substances encourage the return of connective tissue, growth of blood vessels, construction of collagen fibres and the healing process of injured tissue (muscle, tendons, skin).
Epidermal growth factor (EGF): this substance regulates the cell growth, stimulates the splitting and specialization of epidermal cells and supports the growth of granulation tissue and blood vessels. This also supports the healing process of injured tissue (muscle, tendons, skin).
Transforming growth factors a and b (TGF-a and TGF-b): these substances stimulate the cell devision of connective tissue and encourages the growth of collagen, DNA-synthesis, the growth of antibacterial peptides, and the growth of keratinocytes as well as the growth of blood vessels.
Vascular endothelial growth factor (VEGF): these substances encourage the growth of blood vessels and endothelial cells. This also supports the healing process of injured tissue (muscle, tendons, skin).
New scientific studies show that the use of Platelet-rich Plasma can significantly accelerate and improve the healing process of muscle injuries, but also tendon and cartilage problems.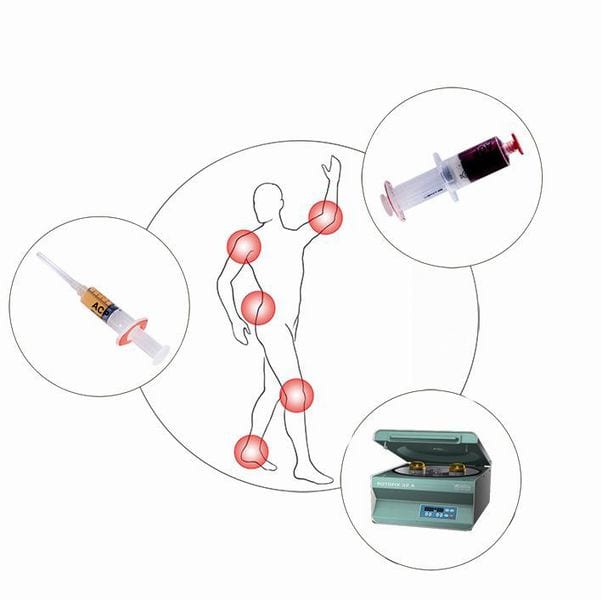 A clinical study in osteoarthritis patients recently showed that autologous blood infiltrations into the knee joint can lead to a significant improvement. The outcome of the study revealed significantly better results for autologous blood (ACP) compared to hyaluronic acid infiltrations.




Patientvideo about Platelet-rich Plasmatherapie (ACP)
Top American Athletes Come to Europe for PRP Therapy
>> Read report
References:
Comparison Between Hyaluronic Acid and Platelet-Rich Plasma, Intra-articular Infiltration in the Treatment of Gonarthrosis
F. Cerza et al.; Am J Sports Med. 2012 Dec;40(12):2822-7.
Methods: A total of 120 patients affected by clinically and radiographically documented gonarthrosis were included in this study. The gonarthrosis was graded using the Kellgren-Lawrence radiographic classification scale. The 120 patients were randomized into 2 study groups in a 1:1 ratio: 60 patients received 4 intra-articular injections of PRP (specifically, autologous conditioned plasma [ACP], 5.5 mL), and 60 patients received 4 intra-articular injections of HA (20 mg/2 mL). An unblinded physician performed infiltration once a week for 4 weeks into the knee affected by clinically relevant gonarthrosis (in both groups). All patients were evaluated with the Western Ontario and McMaster (WOMAC) score before the infiltration and at 4, 12, and 24 weeks after the first injection.
Results: Treatment with a local injection of ACP had a significant effect shortly after the final infiltration and a continuously improving sustained effect up to 24 weeks (WOMAC score, 65.1 and 36.5 in the HA and ACP groups, respectively; P \ .001), where the clinical outcomes were better compared with the results with HA. In the HA group, the worst results were obtained for grade III gonarthrosis, whereas the clinical results obtained in the ACP group did not show any statistically significant differ- ence in terms of the grade of gonarthrosis. The mean WOMAC scores for grade III gonarthrosis were 74.85 in the HA group and 41.20 in the ACP group (P \ .001).
Conclusion: Treatment with ACP showed a significantly better clinical outcome than did treatment with HA, with sustained lower WOMAC scores. Treatment with HA did not seem to be effective in the patients with grade III gonarthrosis.
Usually four infiltrations with autologous blood (ACP) are carried out at intervals of two weeks (the interval can be longer, but should not be shorter). In some cases, a fifth infiltration is recommended four weeks after the last infiltration (in case that the symptoms have improved significantly but not completely).
Costs per infiltration: € 250,-
More questions?
Our experts are happy to help you
Just give us a call!
Bitte beachten Sie, dass sich medizinische Indikationen und Therapien ständig ändern. Teilweise erfolgen diese Veränderungen rascher, als Univ.Prof. Dr. Christian Gäbler zeitlich imstande ist, die Homepage zu aktualisieren. Manche Informationen zu Dosierung, Verabreichung und Zusammensetzungen von Medikamenten können sich inzwischen geändert haben. Das Lesen einer Internetseite kann den Besuch beim Arzt nicht ersetzen - es kann sein, dass Ihnen bei einer Untersuchung und anschliessenden Besprechung durch Ihren Arzt auch andere Informationen durch neue wissenschaftliche Erkenntnisse mitgeteilt werden.